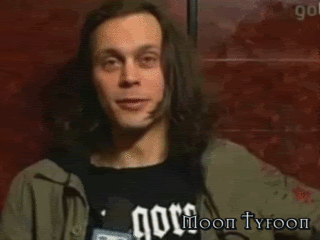 Ville Valo
Ville Hermanni Valo ( * Helsinki, 22 de noviembre de 1976) es vocalista, compositor finés, y líder de la banda finlandesa HIM, de la que es uno de los fundadores. Valo es también el baterista de la banda Daniel Lioneye, la cual tiene al guitarrista de HIM, Mikko Lindström, como cantante. Es el inventor del Heartagram, distintivo de la banda.
Ville Valo Hermanni (* Helsinki, November 22, 1976) is a vocalist, Finnish composer, and leader of the Finnish band HIM, which is one of the founders. Valo is also the drummer for the band Daniel Lioneye, which is HIM guitarist Mikko Lindström, vocals. He is the inventor of the Heartagram, distinctive band.
Biography
His childhood and early
During his childhood and youth he lived in the neighborhood of Oulunkylä. His family consisted of his father Kari, his mother Anita and his brother Jesse, 6 years younger than him, who practices as a boxing hobby Thailand.
Born in Finland. The first months of life lived with his parents in the old part of Vallila, then moved to Oulunkylä, where he spent the next seventeen years. Went to school in Oulunkylä. Higher education's place in the Lyceum Käpylä night where he met guitarist Petri Valli of the former group Kingston Wall.
His father used to repair old cars and his mother has the same job for 20 years.
Valo had many animals during his childhood, including dogs, fish and turtles. According to Valo, the death of his dog had an injury and became allergic and asthmatic.
The first memory "musical" than their parents have of him is from a family party where, around midnight, Jallu, a family friend Elvis impersonator, began to play Are You Lonesome Tonight. Valo crawled in his pajamas to get around and start drumming bongos to the beat of the song by Elvis. At that time his parents said, this insurance will end up a musician. "
Musical Influences
From childhood he was influenced by the music they liked their parents, singers such as Tapio Rautavaara and Rauli and Rolling Stones, Cat Stevens, John Lee Hooker and Bo Diddley.
In his official biography has said that was his cousin introduced him to have recommended the rock after listening to Kiss, why the first album I bought was Animalize. His older cousin also was influenced by bands such as the aforementioned Kiss, Black Sabbath and Iron Maiden. At age 8, he realized his passion for rock music. His interests expanded, with styles like Reggae, some degree of Blues, and music with hints and Country air, like Johnny Cash, Roy Orbison and Neil Young.
From a young age, Valo's enthusiasm for the music he did participate in several bands of Helsinki, such as BLOOD (1986-89), Eloveena Boys (1987-88), Kemoterapia (1989-97) and several others, which were somewhat obscure projects.
] Learning to play bass
It was during a time of art classes, but later captured the music all the time, so that the third was changed to music lessons and had to decide what instrument to play, Valo chose the bass because he admired Gene Simmons.
His parents got a second hand under his professor Hannu Takalo was who taught him to touch him and his mother forced him to practice. Preferred to learn pop / rock, so it has no basis in classical music.
His first groups
Fourth or fifth grade he formed his first group Blood, they put dots between the letters as "WASP", "we did not know why the points were in any case looked good as well", playing music that had meaning for them, especially Iron Maiden, had two batteries, one for testing and the other to perform in public, suffering stage fright. They played music for the class, before the sixth grade boys.
Later, he met Linda, seventh, and sometimes played together, and gradually became known to the other boys and started playing at school parties under the name of Elovena Boys, which Valo was the bassist, played songs U2 and Dire Straits and wrote his first song for the group, then followed several groups, including Aurora, where Valo was on drums and Linde played guitar.
As end of year trip was to Amsterdam by bus, and did some performances in schools in Holland.
Besides music, also practiced judo, and later became interested to skate.
[These data appear in the book "Synnin Viemää" JK Juntunen].
HIM
At 18, his parents gave him a small study, which moved, and was working in the sex shop "Adults Aikuisten Lelukauppa Toyshop" belonging to his father.
In 1995, due to disagreement with the existing music, HIM formed, which initially was thought as a group of covers of bands like KISS, Danzig, Black Sabbath and Depeche Mode, but developed a style they called Love Metal.
In the beginning, was to be the bassist, but as it was also Migé, became the lead singer and songwriter for the group, also tend to be the one who is responsible for giving interviews.
He has combined his work in HIM, with other projects working with groups like The 69 Eyes and part of the draft Linde, Daniel Lioneye.
In 2005, he was committed to the model and MTV presenter Jonna Nygren Finland, ending the relationship a year later, is today the only single member of the band.
In 2007, he entered rehab due to his alcoholism, has since remained sober, and has been subject to light in interviews during the presentation of the album Venus Doom. Stated that it has now also left his smoking habit.
Bands that have participated
• B.L.O.O.D. [1986/87-1989] Drummer
• Boys Elovena [1987/1988?] Lyrics, composition and Under
• Kemoterapia [1989 to early 90's] lyrics, composition, Bass and Drums
• Therapy [1990] Vocalist
• Winho [1990] Vocalist
• Unga Kaskelottär [1990? / 1992?] Vocals, Lyrics, Composition, Percussion, Bass and Guitar
• Aurora [1992] Battery
• HIM [since 1995] Vocalist
• Donits Osmo Experience [1992/1993] Low
• Daniel Lioneye [since 2001, suspended draft] Battery
Discography
with HIM
• Witches and Other Night Fears (Demo) (1992)
• This Is Only the Beginning (Demo) (1995)
• 666 Ways to Love: Prologue (EP) (1996)
• Greatest Love Songs Vol 666 (1997)
• Razorblade Romance (2000)
• Deep Shadows And Brilliant Highlights (2001)
• Single Collection (Box set) (2002)
• Love Metal (2003)
• And Love Said No: The Greatest Hits 1997-2004 (2004)
• The Video Collection (DVD)
• Love Metal Archives (DVD)
• Dark Light (2005)
• Uneasy Listening Vol 1 (2006)
• Uneasy Listening Vol 2 (2007)
• Venus Doom (2007)
• Digital Versatile Doom CD + DVD (2008)
• Screamworks: Love In Theory And Practice (2010)
Other
• 1997
or Wrap your troubles in dreams (The 69 Eyes, Valo as background vocals)
• 1998
or Hunningolla (Neljä Ruusua; Valo appears as guest artist in the video)
or Laulava Sydan (Agents, Ville Valo sings 3 songs on this album in Finnish)
• 1999
or Ikkunaprinsessa (Agents and Ville Valo)
or Paratiisi (Agents and Ville Valo)
or Jykevää on rakkaus (Agents and Ville Valo) [Used for the show CKY4: The Latest and Greatest in 2004]
or Freak Out (Tehosekoitin; Valo as background vocals)
or Wasting The Dawn (The 69 Eyes, Valo as background vocals)
Whispers in the Chaos or (Written by Valo, for "Sweet Desire Lullacry)
• 2000
and Blessed Be (The 69 Eyes, Valo as background vocals)
• 2001
or Thulsa Doom (HIM as Thulsa Doom, a band that opened for The 69 Eyes at the Tavastia Club)
or Death Of A Clown (5.15 - Five Fifteen, Valo as background vocals)
or The King Of Rock'n Roll (album Lioneye Daniel (guitarist of HIM), Valo and drummer makes additional voice)
• 2002
or Hedonis Hellcats (The Skreppers; Valo does additional voices with Migé and Lily)
and Support Band von The Skreppers (Lux Airam / Ville, Miguel / Migé and D. Lioneye / Lily)
or Paris Kills (The 69 Eyes, Valo does additional voices)
or Aura (The Mission; Valo as background vocals)
• 2004
or Saturnalia (Lowe Motor Corporation; Valo as background vocals)
or Bittersweet (Apocalyptica, Ville Valo with Lauri Ylönen of The Rasmus)
or The Call Of The Trash (The Skreppers; Valo as background vocals)
or Devils (The 69 Eyes, Valo as background vocals)
• 2005
or American Idle (Isabelle's Gift; Valo as background vocals on the song 'If I Die Tonight ")
or Something Diabolical (Bloodhound Gang, together with Ville Valo)
• 2006
or The Byronic Man (Cradle Of Filth, together with Ville Valo)
or Inner Silence (Anathema, together with Ville Valo)
or Synkkien Laulujen Maa (Ville Valo sings Kun Minä Kotoani Läksin with Tommi Viksten in this compilation album, see
http://www.synkkienlaulujenmaa.fi/
)
• 2007
or Summer Wine (Natalia Avelon, together with Ville Valo, for the soundtrack of 8 Miles High)
or Just For Tonight (Manna, together with Ville Valo)
Biografía
Su infancia e inicios
Durante su infancia y juventud vivió en el barrio de Oulunkylä. Su familia se componía de su padre
Kari
, su madre
Anita
y de su hermano
Jesse
, 6 años menor que él, quien practica como hobby el boxeo thailandés.
Nació en Finlandia. Los primeros meses de vida vivió con sus padres en la parte antigua de Vallila, y luego se mudaron a Oulunkylä, donde pasó los siguientes diecisiete años. Fue al colegio en Oulunkylä. La enseñanza superior la realizó en el liceo de noche de Käpylä, donde coincidió con el guitarrista Petri Valli del antiguo grupo Kingston Wall .
Su padre solía reparar coches viejos y su madre tiene el mismo empleo desde hace 20 años.
Valo tuvo muchos animales durante su infancia, entre ellos perros, peces y tortugas. Según Valo, al morir su perro tuvo un trauma y se volvió alérgico y asmático.
El primer recuerdo "musical" que sus padres tienen de él es de una fiesta familiar en la que, hacia medianoche, Jallu, un amigo de la familia imitador de Elvis, empezó a tocar Are You Lonesome Tonight. Valo gateó en pijama hasta coger unos bongos y empezar a tamborear siguiendo el ritmo de la canción de Elvis. En ese momento sus padres se dijeron: éste seguro que acabará músico".
Influencias musicales
Desde pequeño fue influenciado por la música que les gustaba a sus padres, de cantantes tales como Tapio Rautavaara y Rauli, así como Rolling Stones, Cat Stevens,John Lee Hooker y Bo Diddley.
En su biografía oficial ha comentado que fue su prima quien le introdujo en el rock tras haberle recomendado escuchar a Kiss, por ello el primer disco que se compró fue Animalize. Su primo mayor lo influenció también mediante bandas tales como la ya mencionada Kiss, Black Sabbath e Iron Maiden. A los 8 años se dio cuenta de su pasión por la música rock. Sus intereses se expandieron, con estilos como el Reggae, un cierto grado de Blues, y música con toques y aires Country, como Johnny Cash, Roy Orbison y Neil Young.
Desde muy joven, el entusiasmo de Valo hacia la música lo hizo participar en varias bandas de Helsinki, tales como B.L.O.O.D. (1986-89), Eloveena Boys (1987-88), Kemoterapia (1989-97) y varias más, las cuales eran proyectos un tanto oscuros.
] Aprendiendo a tocar el bajo
Fue durante un tiempo a las clases de arte, pero más tarde la música acaparó todo su tiempo, por lo que en tercero se cambió a las clases de música y debían decidir qué instrumento tocar, Valo escogió el bajo ya que admiraba a Gene Simmons.
Sus padres consiguieron un bajo de segunda mano, su profesor Hannu Takalo fue quién le enseñó a tocarlo y su madre le obligaba a practicar. Prefirió aprender música pop/rock, por lo que no tiene bases de música clásica.
Sus primeros grupos
En cuarto o quinto curso formó su primer grupo B.L.O.O.D., le pusieron puntos entre las letras como "W.A.S.P.", "no sabíamos porqué estaban los puntos, en todo caso quedaba bien así", tocaban música que tuvieran algún significado para ellos, especialmente de Iron Maiden, tenían dos baterías, uno para los ensayos y otro para tocar en público, ya que sufría miedo escénico. Tocaron para la clase de música, ante los chicos de sexto curso.
Más tarde, conoció a Linde, en séptimo, y a veces tocaban juntos y poco a poco fue conociendo a los demás chicos y empezaron a tocar en fiestas del colegio bajo el nombre de Elovena Boys, en el que Valo era el bajista; tocaban canciones de U2 y Dire Straits y escribió su primera canción para el grupo; después le siguieron varios grupos, como Aurora, donde Valo era el batería y Linde tocaba la guitarra.
Como viaje de fin de curso fueron a Ámsterdam, en autobús, e hicieron algunas actuaciones en colegios de Holanda.
Aparte de la música, también practicaba judo, y más tarde se aficionó al skate.
[Estos datos aparecen en el libro "
Synnin Viemää
" de J.K. Juntunen].
HIM
Con 18 años, sus padres le regalaron un pequeño estudio, al cual se mudó, y estuvo trabajando en el sex shop "Adults Toyshop Aikuisten Lelukauppa" que pertenece a su padre.
En 1995, debido a la inconformidad por la música existente, formó HIM, que en un principio fue pensado como grupo de covers de bandas como KISS, Danzig, Black Sabbath y Depeche Mode, pero desarrollaron un estilo al que ellos denominaron Love Metal.
En un principio, iba a ser el bajista, pero como Migé también lo era, pasó a ser el vocalista y compositor del grupo, además, suele ser él quien se encarga de dar las entrevistas.
Ha compaginado su trabajo en HIM, con otros proyectos colaborando con grupos como The 69 Eyes y formando parte del proyecto de Linde, Daniel Lioneye.
En 2005, estuvo comprometido con la modelo y presentadora de Mtv Finlandia Jonna Nygren, terminando la relación un año más tarde, siendo hoy en día el único miembro soltero de la banda.
En 2007, entró en una clínica de desintoxicación, debido a su alcoholismo, desde entonces se ha mantenido sobrio, y ha sido tema a relucir en sus entrevistas durante la presentación del disco Venus Doom. Actualmente ha declarado haber dejado también su hábito de fumar.
Bandas en las que ha participado
B.L.O.O.D. [1986/87-1989] Baterista
Elovena Boys [1987/1988?] Letras, composición y Bajo
Kemoterapia [1989 hasta inicios de los 90's] Letras, composición, Bajo y Batería
Terapia [1990] Vocalista
Winha [1990] Vocalista
Unga Kaskelottär [1990?/1992?] Vocalista, Letras, Composición, Percusión, Bajo y Guitarra
Aurora [1992] Batería
HIM [desde 1995] Vocalista
Donits Osmo Experience [1992/1993] Bajo
Daniel Lioneye [desde 2001, proyecto en suspensión] Batería
Discografía
con HIM
Witches and Other Night Fears (Demo) (1992)
This Is Only the Beginning (Demo) (1995)
666 Ways to Love: Prologue (EP) (1996)
Greatest Love Songs Vol. 666 (1997)
Razorblade Romance (2000)
Deep Shadows And Brilliant Highlights (2001)
Single Collection (Box set) (2002)
Love Metal (2003)
And Love Said No: The Greatest Hits 1997-2004 (2004)
The Video Collection (DVD)
Love Metal Archives (DVD)
Dark Light (2005)
Uneasy Listening Vol. 1 (2006)
Uneasy Listening Vol. 2 (2007)
Venus Doom (2007)
Digital Versatile Doom CD+DVD (2008)
Screamworks: Love In Theory And Practice (2010)
Otros
1997

Wrap your troubles in dreams (The 69 Eyes; Valo como voz de fondo)

1998

Hunningolla (Neljä Ruusua; Valo aparece como artista invitado en el vídeo)
Laulava Sydän (Agents; Ville Valo canta 3 canciones en este álbum en finés)

1999

Ikkunaprinsessa (Agents y Ville Valo)
Paratiisi (Agents y Ville Valo)
Jykevää on rakkaus (Agents y Ville Valo) [Utilizada para el show CKY4: The Latest and Greatest en 2004]
Freak Out (Tehosekoitin; Valo como voz de fondo)
Wasting The Dawn (The 69 Eyes; Valo como voz de fondo)
Whispers in the Chaos (Escrita por Valo, para "Sweet Desire" de Lullacry)

2000

Blessed Be (The 69 Eyes; Valo como voz de fondo)

2001

Thulsa Doom (HIM como Thulsa Doom, banda que telonea a The 69 Eyes en el Club Tavastia)
Death Of A Clown (5.15 - Five Fifteen; Valo como voz de fondo)
The King Of Rock'n Roll (Album de Daniel Lioneye (guitarrista de HIM); Valo hace de baterista y de voz adicional)

2002

Hedonis Hellcats (The Skreppers; Valo hace las voces adicionales junto a Migé y Lily)
Support Band von The Skreppers (Lux Airam/Ville, Miguelo/Migé y D. Lioneye/Lily)
Paris Kills (The 69 Eyes; Valo hace las voces adicionales)
AurA (The Mission; Valo como voz de fondo)

2004

Saturnalia (Lowe Motor Corporation; Valo como voz de fondo)
Bittersweet (Apocalyptica; Ville Valo junto a Lauri Ylönen de The Rasmus )
The Call Of The Trash (The Skreppers; Valo como voz de fondo)
Devils (The 69 Eyes; Valo como voz de fondo)

2005

American Idle (Isabelle's Gift; Valo como voz de fondo en la canción 'If I Die Tonight')
Something Diabolical (Bloodhound Gang; junto a Ville Valo)

2006

The Byronic Man (Cradle Of Filth; junto a Ville Valo)
Inner Silence (Anathema; junto a Ville Valo)
Synkkien Laulujen Maa (Ville Valo canta la canción Kun Minä Kotoani Läksin junto a Tommi Viksten en este álbum recopilatorio, véase:

http://www.synkkienlaulujenmaa.fi/

)

2007

Summer Wine (Natalia Avelon; junto a Ville Valo, para la BSO de 8 Miles High)
Just For Tonight (Manna; junto a Ville Valo)